Careers News and Events
Hertfordshire Parent and Carer Survey of Apprenticeship Awareness 2021
The past year has presented many challenges, not least to our young people who have faced significant disruption in their education.

Please complete this survey so that we can better understand the views and support needs of parents and carers regarding apprenticeships.

All responses will be kept confidential and will only be used to plan apprenticeship support services in Hertfordshire. This survey is being conducted by Amazing Apprenticeships on behalf of Hertfordshire LEP and Hertfordshire Careers Hub. We will not share your details or individual responses with any other parties.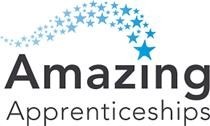 ---
The March 2021 Newsletter is out... please click the image below to download
---
VIRTUAL EMPLOYER ENCOUNTERS
The next webinar will be on Careers in the Fashion industry, Thursday 13th May 4:00pm. Register here.
This webinar may be of interest to any students with an interest in the Fashion Industry and/or any students with particular interest in design.
The Fashion Industry contains a wide variety of different career roles from Design to Buying and Selling, window dressing and more general business operations. Hertfordshire is perfectly located on the doorstep of London, one of the world's leading Fashion hubs. This webinar aims to explain the different opportunities available within the Fashion industry and the steps that will take you there.
DETAILS OF PREVIOUS WEBINARS AND LINKS TO WATCH:
All previous webinars are available to watch via our HOP page:
https://www.hopinto.co.uk/explore-careers/webinars/virtual-employer-encounters/
Subjects have included:
A Business Apprenticeship
Physiotherapy
Engineering
Life Sciences/Pharmaceuticals
Construction
Film & Media Production
Nursing
Sports Coaching
---
Sutton Trust UK Summer Schools give you the chance to experience what university life is really like...
Explore our summer schools
Our Summer Schools offer over 40 different courses at 13 of the UK's top universities. We've created an easy search tool below to help you find a programme that's right for you. Click here
Do you want to try a new subject? Or do you want to check whether your current course choice is actually for you? Keen to visit a university or city you've never been to?
We'll cover the full costs of your travel, accommodation, food and activities at any partner university – not just one that's local to where you live – so choose a Summer School based on your subject interests at a university you'd like to explore.
---
Summer Internships 2021
The Ultimate Work Experience
Ages 12-18

Following last week's government announcement, we have been inundated with registrations for our Summer Internships in London. We are already more than 50% full across the board as students look to finally gain the in-person work experience they've been waiting for.

You can download a PDF of this here
---
LAW WORK EXPERIENCE (16+)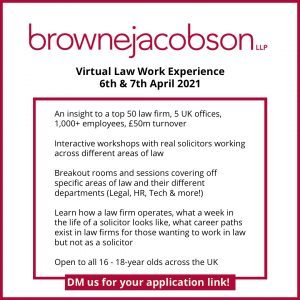 Browne Jacobson are a top 50 law firm with offices all over the UK and revenues of £50million. These two days in the Easter Holidays are going to provide students with a really great insight into how a law firm works and makes money, the different departments they have, and an opportunity to talk with lots of different solicitors.
Law Virtual Work Experience:
Tuesday 6th & Wednesday 7th April, 9am – 4pm each day
Partner welcome talk
An insight to law, their different departments and areas of work (including non law routes)
Breakout rooms with solicitors in talking about different areas of law
Workshops & interactive sessions
Open to all Y11, S4, Y12 / S5, Y13 / S6 & Y14 students
Application Link:https://www.research.net/r/Law-WEX
Click here to find out more
---

Creative Industries Careers Guide
Discover the perfect guide to help your students work out their
next steps. We understand that with the current situation preventing face-to-face events, it's more important than ever that students feel supported.

Our handy creative Careers Guide will help you support your students in finding their niche in the creative industries. At Escape Studios our undergraduate courses in Animation, Game Art and Visual Effects have been designed to help students land their dream job.
Careers Quiz

Are any of your students interested in a creative career?
Our quiz is a great way to find out which department you're most suited to!