Free School Meals
We understand that many people will be finding the recent cost of living increases extremely challenging. Nationally, over the last couple of years, many families will have become eligible to receive Free School Meals, for example in the last 5 years, there has been a 50% increase in eligible families in the South East.
We would welcome, and strongly encourage, all families eligible to take up their Free School Meals. It is very straight forward to apply, please see further below.
Nearly 1 in 3 of our current students receive Free School Meals, and there is absolutely no stigma or negativity attached to this, and no one will be aware – the meals are simply added to students' accounts, and they purchase their food from the restaurant as they would normally do, with their fingerprint.
Students can then have a free high quality hot or cold meal every day from our fantastic Cucina restaurant.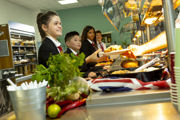 In addition, for each student who takes up Free School Meals, schools receive additional funding which can be used to purchase additional resources for students' learning.
Am I Eligible?
Your child can get a free school meal if you receive any of the following:
Income Support
income-based Jobseeker's Allowance
income-related Employment and Support Allowance
support under Part VI of the Immigration and Asylum Act 1999
the guaranteed element of Pension Credit
Child Tax Credit (provided you're not also entitled to Working Tax Credit and have an annual gross income of no more than £16,190)
Working Tax Credit run-on - paid for 4 weeks after you stop qualifying for Working Tax Credit
Universal Credit - if you apply on or after 1 April 2018 your household income must be less than £7,400 a year (after tax and not including any benefits you get)
You can apply directly at this link, which only takes a few minutes: https://www.hertfordshire.gov.uk/services/schools-and-education/at-school/free-school-meals/free-school-meals.aspx#year3
You will need to have your National Insurance number or Home Office number to hand when you apply.
If you are unsure about the process, or would like some help in applying, we will have an ICT hub available during the IAG evening, where we can support you in completing the form. Please bring along your National Insurance number or Home Office number if you would like to do this.
We hope that you do consider taking up this great opportunity. If you have any queries whatsoever, please do not hesitate to ask.