Curriculum Overview
The curriculum at Marriotts is more than the lessons that our students enjoy. It is the whole school experience: from assemblies to educational visits, from cultural capital discussions to student-voice sessions, from life skills and Humantopia to extra-curricular clubs and intervention sessions.
We believe our curriculum makes a difference to who our students are and who they will become, and fosters in our students a sense of character founded in our emphasis of: "Aim high! Work Hard! Be Kind!". It gives them the currency – in knowledge and skills, examination results and enriched experiences – necessary to take their next exciting, informed and ambitious steps.
At Marriotts our curriculum aims to embody our school mission statement of Aim high, Work hard, Be Kind and is:
based on a strong core of knowledge, skills and vocabulary, which is specified, taught, applied, assessed and securely learnt.
exceptionally well-planned, assessed and sequenced to allow all to succeed.
manageable and efficient and is delivered by staff who have secure knowledge, skills and expertise in how to teach – with strong subject knowledge.
designed to expand horizons, give choice and develop our students as responsible learners and citizens.
The Curriculum provision at Marriotts is broad, balanced and fully inclusive. There is an emphasis on promoting strength and success in traditional academic subjects, but this is balanced with a desire to foster variety and personalisation in our provision. The Curriculum is constantly reviewed and developed to not only meet the needs and strengths of our students, but to provide rich opportunities for them to develop a range of skills and enjoy memorable experiences.
Throughout our curriculum we have strength in the core of English and Maths to recognise the importance of success and progress in these key subjects. There is a real breadth of courses and range of levels across the curriculum, addressing the needs of all groups of students; a very strong traditional academic offer balanced with specific vocational and alternative courses.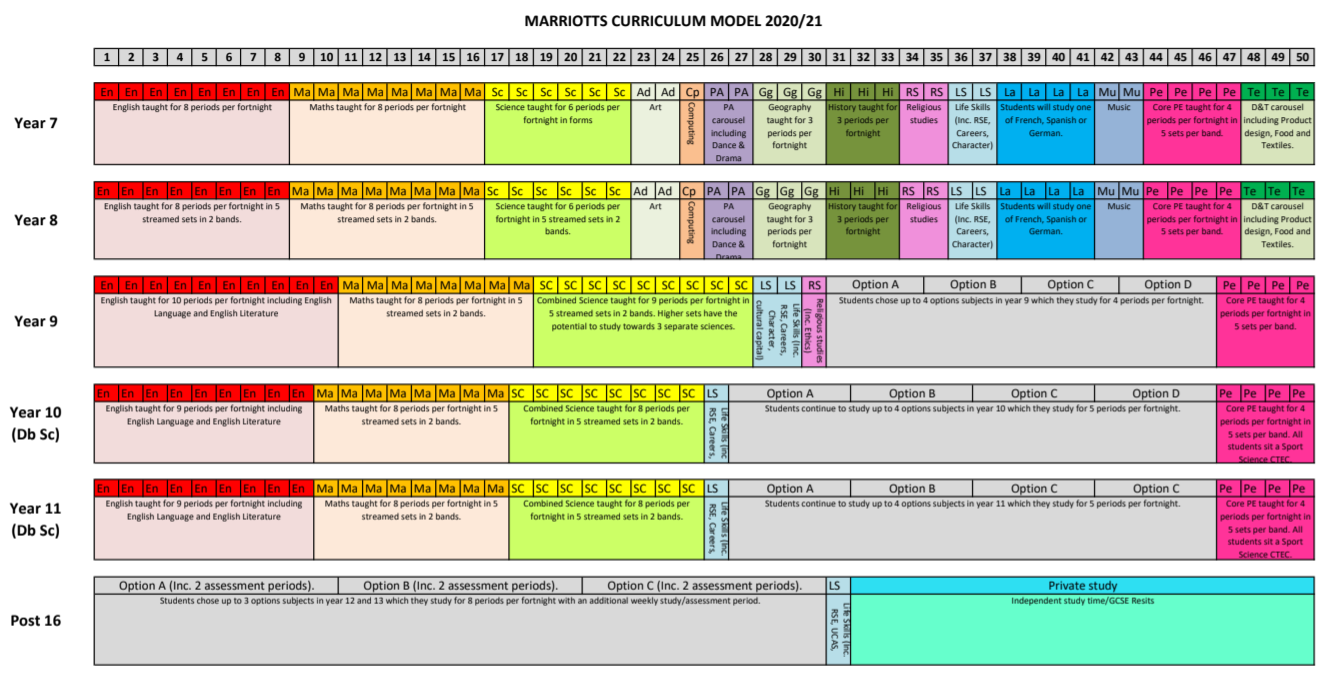 Key Stage 3 (Years 7 and 8)
The focus in Key stage 3 is to ensure a nurturing learning environment with a specific focus on developing strong basic skills alongside a broad and balanced curriculum. This provide a foundation for good progress in the future years. Each department offers a relevant, balanced and differentiated curriculum, written by our teachers for our students, that has regard to the National Curriculum.
In Key Stage 3 students are taught in mixed-ability groups in the following areas; Music, Art, Dance, Drama, PE, D&T, Computer Science, Geography, History, MFL and Religious Studies. Academic setting is introduced in Mathematics and English, during Year 7 and Science from Year 8.
During year 7 and 8 students follow a carousel of technology subjects (Food Technology, RM and Textiles). Additionally, students select a language of choice in MFL (Spanish, French and German) on entry to year 7 which they continue to specilise in during Year 8.
Any student who arrives in Year 7 below the expected level of literacy and/or numeracy will receive help and support through are intervention programme delivered through the English and Maths subject teams and also learning support.
We take enormous pride in in providing a high standard of pastoral care and guidance, so that students secure a solid base with which to build their future, this happens both in and outside of the classroom.
Key Stage 4 (Years 9, 10 and 11)
In Key Stage 4 there is a shift towards preparing students for their BTEC and GCSE examinations and Post-16 opportunities. There is a wide choice of possible option subjects (as outlined in our options booklet) alongside the core of English Language, English Literature, Mathematics, Science, Physical Education and Life Skills.
In Key Stage 4, students are generally taught in mixed-ability groups in their option areas; Art, Business, Media Studies, Health and Social Care, Computer Science, Drama, IT, D&T, Modern Languages, Music, Dance, History, Geography & Sociology. Academic setting is used in; Mathematics, English and Science.
Key Stage 5 – Sixth Form (Years 12 and 13)
The Post-16 curriculum has reflected the considerable expansion of interest in Sixth Form studies and Post-16. There is also the opportunity to exploit the Stevenage Sixth's (4 school consortium) shared options programme. Courses offered are reviewed each year in light of student interest following discussions with the Year 11 cohort of students.
For more information regarding the Sixth Form, please click on the 'Sixth Form' tab at the top of this page.
"The range and quality of courses, including personal, social, health and economic (PSHE) education, prepare pupils well for the next stage of their education. Pupils participate enthusiastically in a wide range of extra-curricular activities, including a project to build a school in Gambia." Ofsted 2016
For further details about the curriculum offer at Marriotts, please contact:
Mrs J Leach, Assistant Headteacher: j.leach@marriotts.herts.sch.uk