Transition Day 2021
Welcome to our Transition Day page for Year 6 students joining us in September. We hope you enjoy the following activities, and we very much look forward to seeing you at Summer School, or in September.
Please complete the activities/videos in the order that they appear on the page. If you are unsure about anything, please do not worry, just try your best, and enjoy!
A summary of the activities is as follows: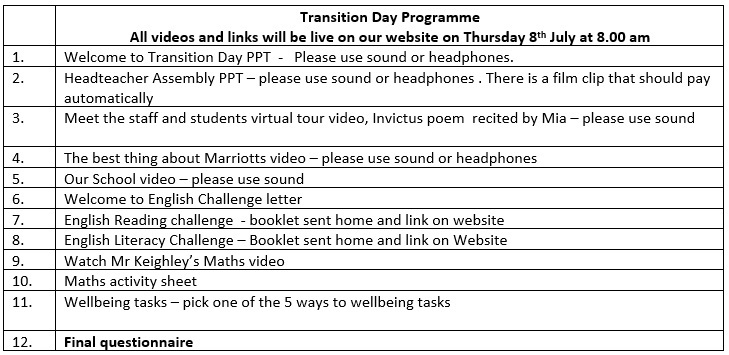 1. Please watch the following Welcome presentation
2. Please watch this presentation from the Headteacher, Ms Honnor
3. Watch our "The Best Thing About Marriotts" student video
4. Watch our 'Our School' video
5. Complete our English Challenge
First, read this letter.
Now complete the English Reading Challenge.
Finally, complete the English Literacy Challenge.
6. Complete our Maths Challenge
First watch this video:
Now complete the Maths Challenge.
7. Now have a go at one or more of our 5 Ways to Wellbeing tasks
8. Meet our Staff and Students on Our Virtual Tour
9. It would be great if you could complete this short feedback form about your day - thank you!
We hope you enjoyed your day, and we look forward to seeing you soon!