Year 7
INFORMATION AND GUIDANCE (IAG) YEAR 7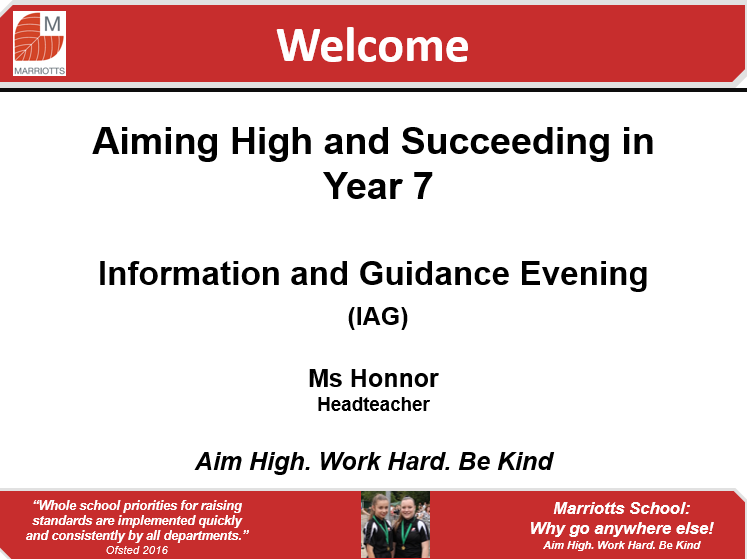 Message from your Year leaders
YEAR 7 CAN BE AN ANXIOUS TIME FOR STUDENTS, BEING THE YOUNGEST, FINDING YOUR WAY AROUND THE SCHOOL AND GETTING USED TO LOTS OF NEW TEACHERS.
With our motto 'Aim High, Work Hard and Be Kind', our aim is for you to settle in well at Marriotts and focus on making progress from your Key Stage 2 results whilst making new friends.
Year 7 is exciting because you will be able to experience new subjects like Drama, Music, Food Technology and Graphics; you will be able to join in with new clubs and teams. You can join the School Council or think about working towards becoming a Curriculum Leader in Year 8 which is a good opportunity to take part in. There are trip opportunities in Year 7 which include educational trips and trips which encourage you to take part in team building opportunities.
At Marriotts, you will have an enjoyable time in Year 7 and will be able to think about developing your school career and opportunities ready for Year 8.
Mrs M Wise Miss B Parker
Year Leader Assistant Year Leader
m.wise@marriotts.herts.sch.uk b.parker@marriotts.herts.sch.uk
The curriculum in year 7
We invite parents and students to watch the following narrated PowerPoint to get a better understanding of the year 7 curriculum:
Literacy in year 7
Please watch the following video which will give you some ideas about how to support literacy and reading development in Year 7:
Mental Health and Wellbeing
Please watch this presentation which highlights some important aspects of health and wellbeing and gives some guidance and areas to think about. The video also includes some websites and contacts which can be used to find out more.
General info for parents new to our school:
If you have any further queries about Year 7, please do not hesitate to contact the Year Leader Mrs M Wise or Assistant Year Leader Miss Parker (m.wise@marriotts.herts.sch.uk or b.parker@marriotts.herts.sch.uk).