Match your skills
Please have an explore of the Bitesize website, there is so much on there! Videos, quizzes, guides to download and careers in different sectors explained by people in the job. It really would be worth your time to explore and possibly find your future...
The Bitesize website is more than just revision. You can find job inspiration, tips and advice on CVs, cover letters and interviews all on Bitesize Careers.

For many students, making decisions about their future can be daunting but Bitesize Careers can get them off to a great start.
---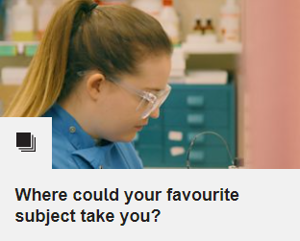 Looking for job inspiration? Check out our job profiles to help you get started. Hear from people who are using subjects that interest you, see how much you could get paid for different roles and find out what qualifications you might need to follow in their footsteps. Click here to find out more
---
There is sometimes too much information out there... have a play on Panjango with friends and family and see where your skills and knowledge can take you.
Click on the image or use the link and code provided below to join the Marriotts session without having to sign up. Click on the red arrows to see different careers and their places of work. Try the quiz questions and challenges to see what the jobs entail.

---
Found any careers that interest you? Use the Career-o-meter widget below to find out more about the different jobs including pay and prospects.
Careerometer can be used to explore and compare key information about occupations, help you learn about different occupations and identify potential careers.
It provides access to a selection of UK headline data relating to pay, weekly hours of work and future employment prospects for different occupations, as well as description of the occupation.
Simply type in the title of the job you are interested in and the widget provides a series of options from which you can select the most relevant to you. You can then look up another occupation and compare. You can also select 'display the UK average' and compare the information with the occupation you have selected.